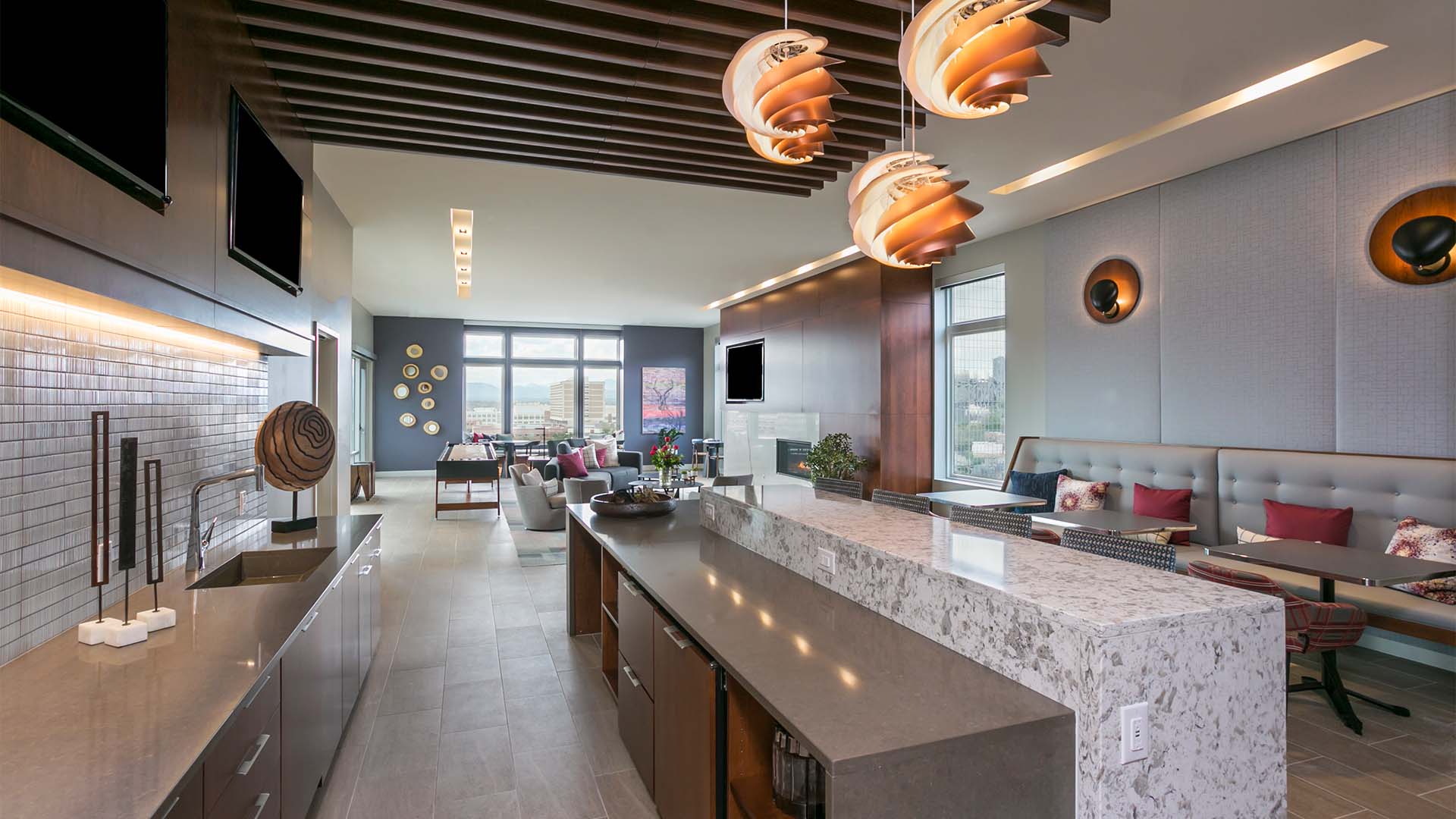 Amenities
Eco-Friendly Urban Amenities
Snap some pics with panoramic views from the top floor Sky Lounge, find your center at our in-house yoga studio and give Rover some love with a visit to the Guten Dog spa. And at the end of a busy day, kick back in your stylish and comfortable apartment in a LEED-certified community.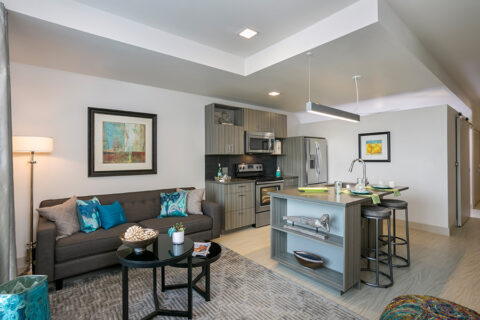 Apartment

Balconies and Patios*

Built-In Bluetooth Speakers

Designer-Inspired Interiors

Energy-Efficient Appliances

French Door Refrigerators with Water Dispensers

Gear Walls

LED Lighting*

Low Flow Water Fixtures

NEST Programmable Thermostats

Quartz Countertops

Stylish Finishes

Multiple Plans to Choose From
*In Select Homes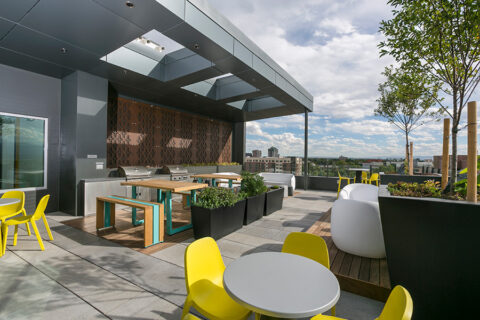 Community

3-14 Month Lease Options Available

Electric Car Charging Stations

In-House Yoga Studio with On-Demand Classes

LEED Certified

On-Site Bike Storage and Repair Facility

Pet Spa & Wash Station

Spacious Lobby

State-of-the-Art Fitness Center

Top Floor Sky Lounge with Panoramic Views of Downtown

Upscale Gathering Place with Gourmet Kitchen and Shuffleboard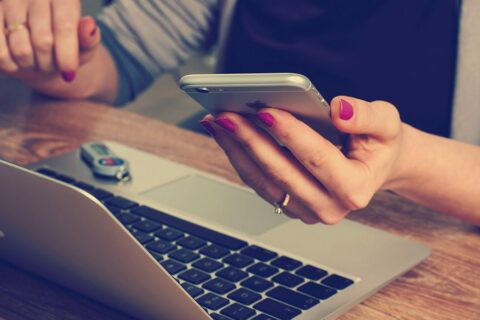 Self Service

BILT - As a resident, you can earn points on every rent payment with Bilt Rewards, our resident rewards program. You can use your points to book travel with over 500 airlines and 700K properties, fund next month's rent payment, book your favorite group fitness classes or even fund a down payment on a future home purchase. Click the link to learn more www.biltrewards.com

ChargePoint - Electric Vehicle Charging Stations

Coffee Station (available to residents)

Luxer Package Lockers - Contactless Package Delivery

Online Rent Payment
Art at 7/S Denver Haus
7/S Denver Haus is proud to house many works of art by a variety of different artists local to Denver. Check out our collection below.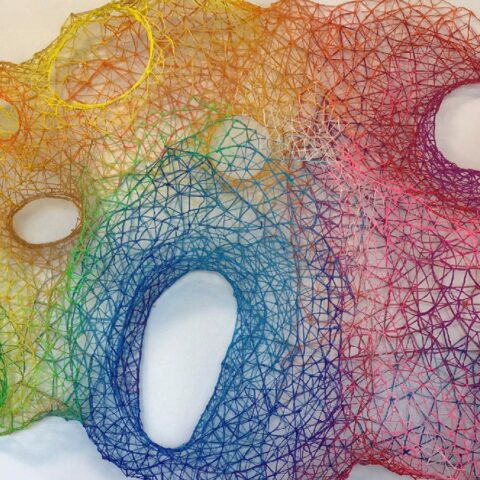 "Super Wicked"
Jodi Stewart
Jodi Stuart grew up in a small farming town on the east coast of New Zealand. Before moving to the U.S. in 2010, she attained a B.F.A. from Manukau Institute of Technology in Auckland, NZ and an M.F.A. from Auckland University. Jodi currently lives in Denver and is an artist in residence at Redline Arts in Denver, CO. Her work explores aspects of place and presence through the view finders of new technologies.

In Jodi's recent body of work, she juxtaposes the tactile and handmade with the digital by using a "3-D pen" and the synthetic, plastic filament meant for 3-D printers in an intensely handmade process. The sculptural forms are inspired by the "wire-frame" geometry of computer game production in an attempt to explore aspects of virtual leisure time and sensory overload. Her work alludes to craft traditions like weaving or knitting as well as geometric visual space, networks and information systems.
Located in the manager's office on the 1st floor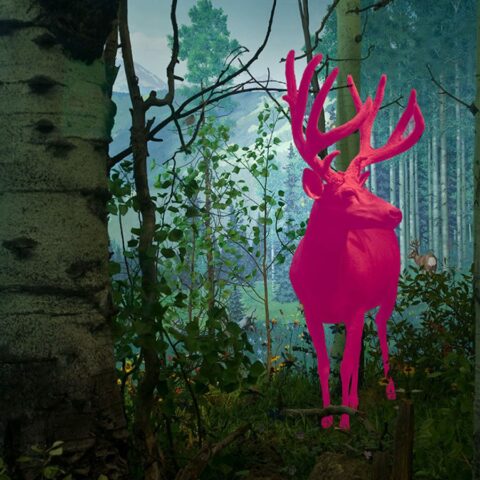 "All That Glitters"
Jason DeMarte
Jason DeMarte is currently a tenured professor of photography at Eastern Michigan University. He received his B.F.A. in photography from Colorado State University and his M.F.A. in photography from the University of Oregon. DeMarte is represented by Rule Gallery in Denver, CO, and his work has been exhibited nationally and internationally in galleries and museums.

All That Glitters belongs to the series called Sightings. In Sightings, Jason explores American modes of representing the natural world through events and objects that have been fabricated or taken out of context. This unnatural experience of the so-called "natural" world is reflected in the way we, as modern consumers, ingest products. What becomes clear is that the closer we come to mimicking the natural world, the further away we separate ourselves from it.
Located on the 1st floor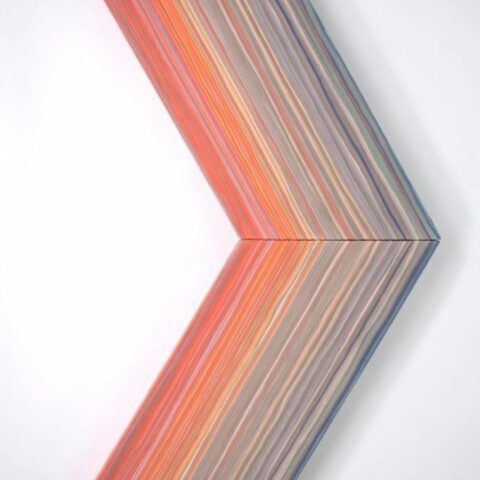 "Untitled"
Jen Pack
Jen Pack received a B.F.A. from Art Center College of Design in Pasadena, CA and an M.L.I.S. from San Jose State University. Reviews of her work have appeared in New American Paintings, Artweek, American Craft Magazine, and the Los Angeles Times. Jen has always been uniquely responsive to color and the sensations color can provoke. Like her artwork, Jen resonates hybridity: she is both loud and quiet, urban and rural, delicate and aggressive, masculine and feminine, adventurous and routine.

Jen Pack's artwork embodies a space in the seam between painting and sculpture and encourages conversations that examine perception and process. Each color is activated by surrounding hues and is most vibrant when in stark contrast in tone, shade, or intensity to neighboring chroma. The work is in-between: it celebrates the purity of abstract form while daring to exist with zeal.
Located on the 1st floor in the elevator lobby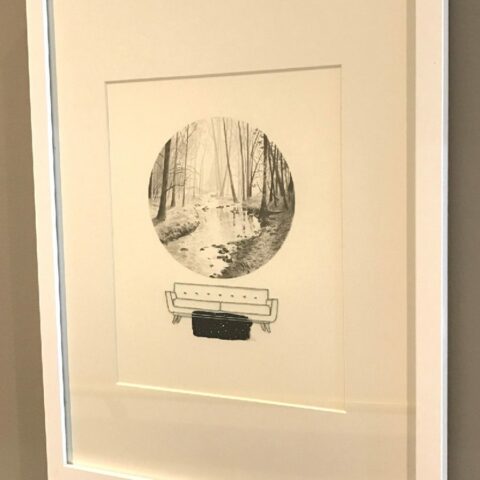 "Sitting Room"
Travis Hetman
Travis Hetman grew up in Minnesota and he received his B.F.A. from the University of Minnesota. He currently lives and works in Denver alongside his wife and pets.

In Travis' "Sitting Room" series, you'll find a portal to a landscape (or perhaps just a memory or a feeling) and a seat constructed on a glimmer of infinite space. The blank space of the page is an invitation to sit, to think and to contemplate, but you can't take it with you. Your only task is to enjoy it.

Through drawing, painting and installation work, Travis' art touches on themes of space, time, and an endless frolic between meaning and meaninglessness.
Located on the 1st floor outside the fitness center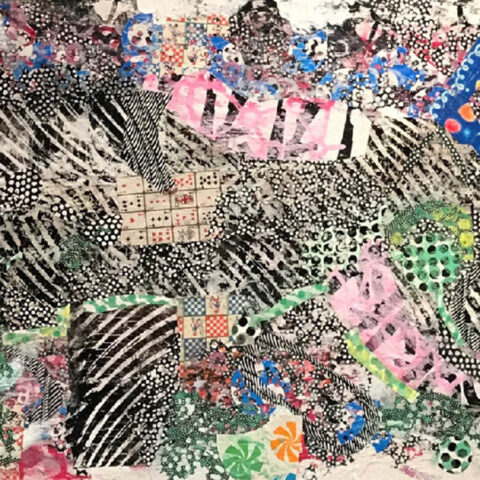 "Asa A Cobra"
Peter Yumi
Peter Yumi earned a bachelor's degree in media studies at Vermont College and received his M.F.A. from Massachusetts College of Art and Design. He has exhibited his work at the Palm Springs Art Museum in Palm Springs, CA and curated exhibits at Metro State Center for Visual Arts and Vertigo Art Space, which are both located in Denver, CO. Peter spends every free moment he has in the studio listening to music and painting.
Located on the 6th floor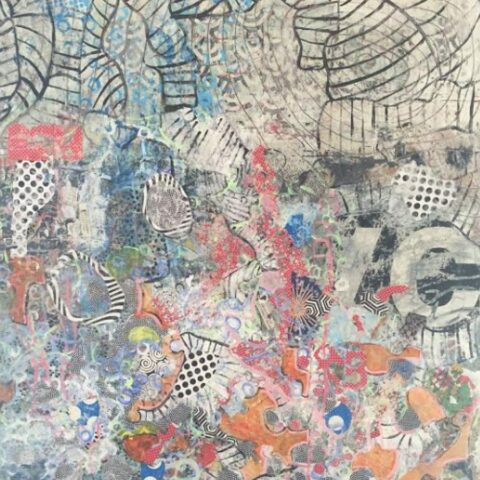 "Quando O Morcego"
Peter Yumi
Peter's work is heavily influenced by his love and respect for Brazilian culture and the Portuguese language. During the creation of these paintings, he listened, sang, and danced to renowned samba master Bezera Da Silva's famous album, O Partido Alto Do Somba, on repeat in the studio for 6 months. The titles for these two paintings came from the titles of songs on the album: "Asa A Cobra" translates to "snake with wings" and "Quando O Morcego Doar Sangue" translates to "when bats donate blood."
Located on the 1st floor outside the mail room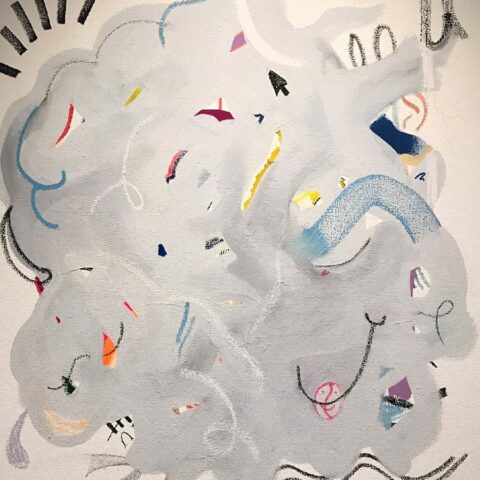 "Matter 1 & 2"
Al Page
Al Page earned his B.F.A. at the University of Colorado Denver. Since graduation, Al has exhibited his work at Leisure Studios, Dateline and the Museum of Contemporary Art Denver, to name a few. He currently has a studio at the Temple in Denver, CO where he works among other local contemporary artists.

This painting showcases the subtlety of the everyday. Every individual has a unique daily ritual or routine. To one's self, the ritual may be repetitive and dull, but to someone else it may be new and different. The routine shown in this painting clouds aspects of the ritual while showcasing fragments of something new and unknown to the viewer.
Located on the 3rd floor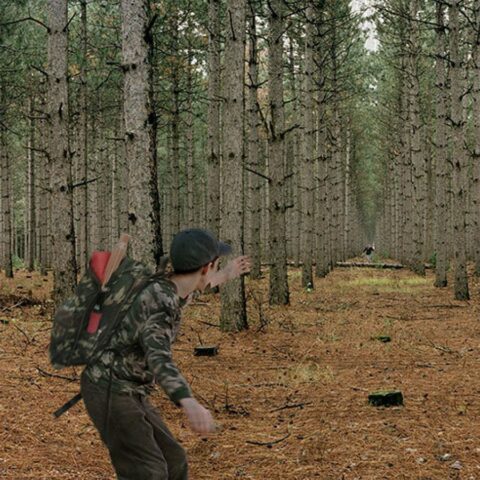 "Flight"
Connor King
Conor King received his B.F.A. from the University of Colorado at Boulder and his M.F.A. from Pratt Institute. His work has been written about in Art F City, the Denver Post, and Denver Westword, and he participated in a three year artist residency program at Redline Arts in Denver, where he also served on the education committee and on the board of directors. Conor is a founding member of Tank Studios, a collection of art studios in Denver, CO.
Located on the 4th floor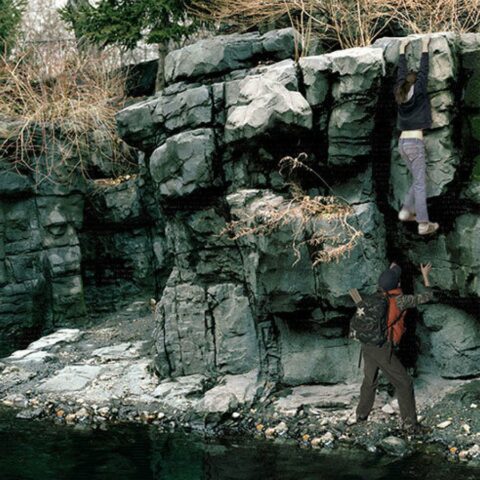 "Enclosure"
Conor King
The works "Flight" and "Enclosure" from a series titled "Mergence," combine various imagery, locations, actors and notes from the picture making process to ask questions about the realities and fictions in the medium of photography. "Flight," photographed in a planted forest, and "Enclosure," photographed in a nature reserve, both show planned landscapes. The works also include two traveling characters, played by the same person, that imply a narrative of change. Details from the picture making process, such as handwritten notes and computer code, are woven into the works, in an attempt to question what a photograph can look like while also speaking to the making of a digitally constructed image.
Located on the 7th floor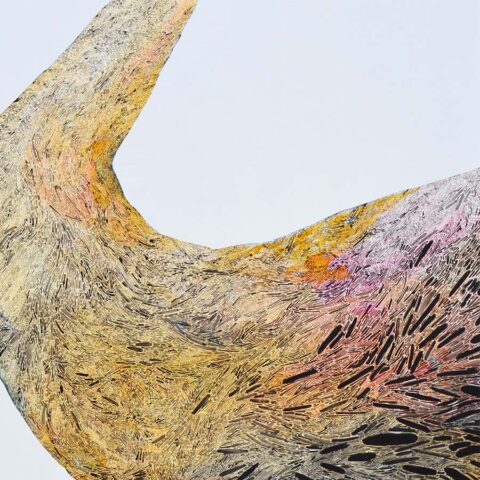 "Untitled 41" Rowan Series
Kaitlyn Tucek
Kaitlyn Tucek grew up on Long Island, and she attended Pratt Institute to study illustration. While earning her master's degree, she worked at both the Metropolitan Museum of Art and the MoMA. Shortly after grad school, Kaitlyn began to move away from illustrative, figurative work to embrace the abstract. In late 2013, Kaitlyn, her husband, and their dog moved to Denver to start a family.

While pregnant with her second child, a girl, Kaitlyn was having strong feelings of female empowerment. During this time, she had a meeting about her career and was given advice that seemed appropriate for her male counterparts but did not necessarily court her typical female buyers. She started to feel like the organic forms in her work needed to push through boundaries, so Kaitlyn imagined them forcing their way into space, growing, expanding, and prevailing despite any pre-conceived condition. She felt the need to use hot pink and wanted the pieces to be larger scale, so as to force your experience in the movement; in other words, the augmentation was driven by girl power.
Located on the 5th floor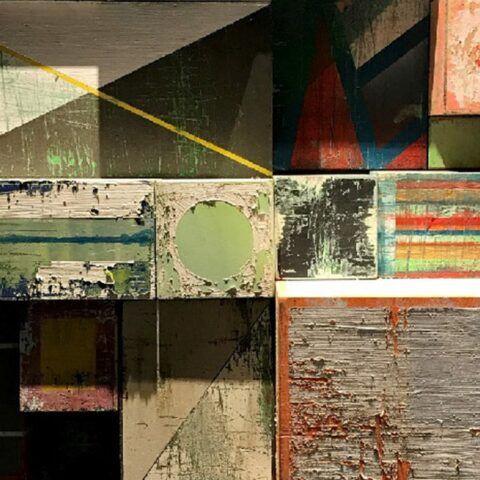 "Soda Shop Be Bop"
Jonathan Saiz
Jonathan Saiz, a Colorado native, studied at Parsons School of Design and Maryland Institute College of Art. In 2012, Saiz painted "live" at the Denver Museum of Nature & Science in conjunction with the exhibition "A Day in Pompeii."

Colorado landscapes, rural textures, wildflowers and ice cream: "Soda Shop Be Bop" is a sculptural trigger of the things Jonathan loves as a Denver native. These wood forms are built at his father's woodworking shop and live somewhere in between nostalgic whimsy and architectural cubism. They aren't created with an intention to trigger a specific feeling, but assembled, rearranged, and added to until the moment when they spark with an indefinable and intuitive narrative.
Located on the 8th floor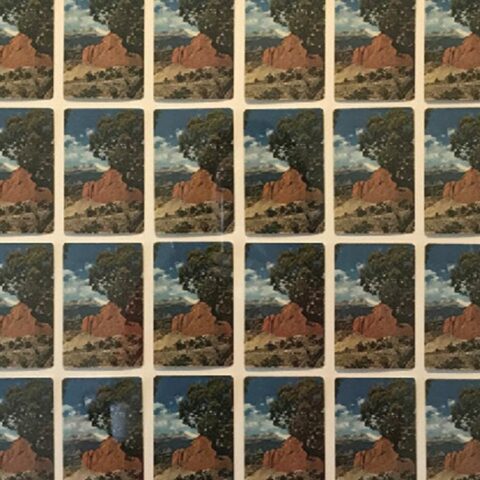 "Colorado Landscapes"
Phil Bender
Phil Bender studied at Metropolitan State College of Denver and has been showing his work throughout Colorado for decades. He is one of the founders of Pirate Contemporary Art Space in Denver, and he exhibited his work in a solo show at the Denver Art Museum in 1996.

Phil is a collector of objects. He scours secondhand shops and antique stores to gather previously owned artifacts, which he then stores in endless boxes and stacks waiting to be arranged in the studio. These three playing card decks depict scenic landscapes from the west and may have been purchased by tourists as souvenirs or for entertainment. Phil is particularly interested in the cards that have been worn through repeated use because of the stories they tell about their previous owners.
Located on the 8th floor on the way to the SkyLounge