News & Happenings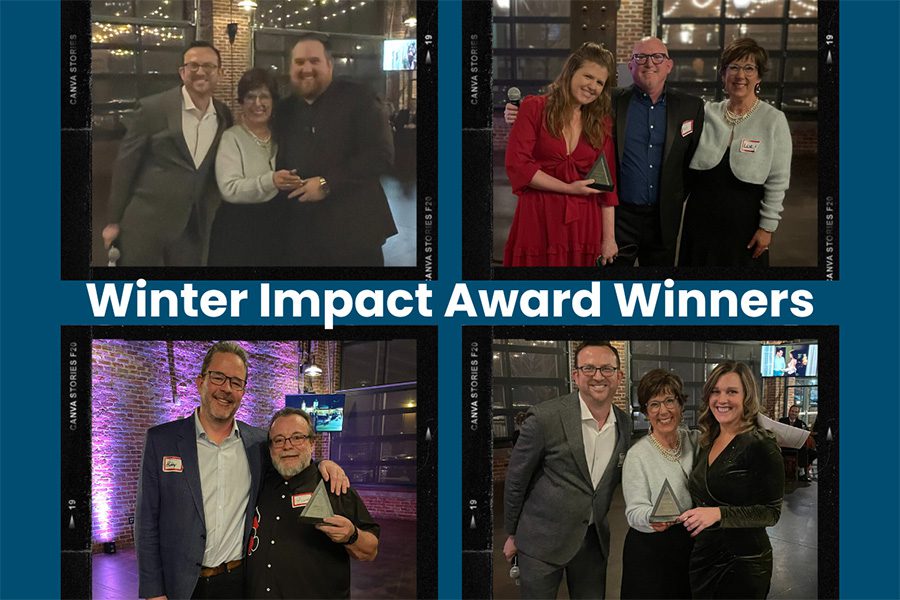 January 14, 2023
Winter 2023 Impact Award Winners Announced
Twice a year, a call for nominations generates many heartfelt tributes to RedPeak team members who go above and beyond in delivering and living RedPeak's mission to Energize Communities and Bring People Together.
The Rookie of the Year Award recognizes is awarded yearly to the team member that has demonstrated exceptional initiative and creativity, and has made a significant contribution to RedPeak in a short period of time. 
A Rookie of the Year Nominee:
Has been with the company 3-12 months effective September 1

st

Has embraced and embodied RedPeak's culture

Has shown a remarkable ability to adjust to a new work environment while demonstrating enthusiasm and a high level of energy

Their contributions have set a benchmark for other to obtain
Drum roll please…
The Winter 2023 Rookie of the Year Winner is: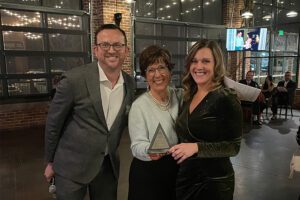 Haleigh Erwin, Leasing Professional, The Flats at Creekside Park
From her nomination:
"Haleigh is the leasing queen, the leasing goddess and the extraordinary leasing guru. These are just a few of the nicknames created for her over the past year. As we approach Haleigh's one year anniversary, I am confident in the fact that she was the perfect hire for the leasing position. As of 11/13, Haleigh has taken 399 tours and received an astonishing 208 applications. This is an average of a 52% closing ratio in her first ELEVEN months in the industry. This girl shows up, shows out and she gets it done every single day. Being her first year in the multifamily industry, she has made an impressive name for herself (and this is just the beginning) She Owns It in her approach every day."
Congratulations, Haleigh! This is just the beginning of your RedPeak success!
The Financial Impact Award recognizes the individual that has delivered excellence in the following criteria:
Quantifiable cost / expense savings to the community and/or company without cutting corners

Finds ways to streamline processes or procedures that result in quantifiable cost savings and helps the organization Go Forward

Brings a skill set or initiates additional learning/training to eliminate the need for outside resources and therefore reduce expenses
Drum roll please…
The Winter 2023 Financial Impact Award Winner is: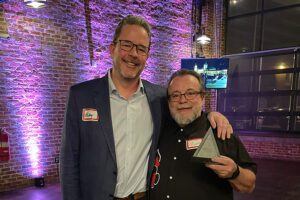 Michael Clark, Multi-Site HVAC Specialist
From his nomination:
"Michael has absolutely excelled in his role. His vast knowledge of all things HVAC and his overall welcoming personality has had a significant impact to all of RedPeak. He has played a key role in [the] development of the HVAC program, not only saving us thousands of dollars in HVAC repairs but sharing his knowledge and experience with anyone who is interested in learning."
Michael exemplifies RedPeak's value to Invest in Each Other. 
The Team Impact Award recognizes the individual that is the glue, the go-to and the get-it done person within their team.
A Team Impact nominee:
Offers a persistently positive and enthusiastic outlook

Serves as a constant example of service delivery at the highest level

Regularly serves as a mentor to other team members

Creates and fosters team synergy

Encourages collaboration and team spirit – Keeps Work Fun

Consistently demonstrates RedPeak Values and acts as a positive ambassador for the company

Serves as an example of professionalism, honesty and integrity, helping RedPeak Earn the Reputation

Always humble, and never ego driven, the Team Impact winner never tries to stand alone. Rather, they understand how to invest in each other, and deliver at the highest levels every single day. They deliver with heart and soul.
Drum roll please…
The Winter 2023 Team Impact Award Winner is: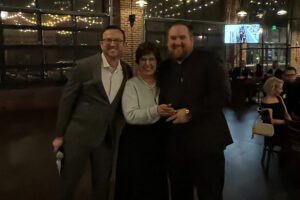 Nick Houston, Sales Manager, Decentralized Leasing
From his nomination:
"About a year ago we embarked on major change related to the structure of the onsite teams and with it came a lot of adjustments and challenges in an already tight labor market. Arguably one of the biggest changes is the role of the Sales Manager, who manages and trains the urban Leasing Team and Move-in Coordinators. In the role of the Sales Manager, Nick has shown exceptional leadership skills developing these two teams by demonstrating RedPeak's expectations for delivery of service at the highest level, while consistently maintaining a positive and enthusiastic outlook."
Nick, you are the glue! Thank you for all you do!
A RedPeak Impact nominee:
Has planned or managed programs that make RedPeak a better place to work and thrive and helps the company Go Forward

Offers an innovative approach, and is always willing to expand their role to include challenges that may be out of their comfortable skill set

Sees a need, develops a solution, and then generously Invests in Each Other by sharing the solution with the entire organization

Volunteers for committees, work groups and learning opportunities the help improve company processes and direction and help us Go Forward

When this individual hears, "Can we do it?" they are first to enthusiastically respond, "Yes we can!" Then they own it. They make an impact. Their initiative and contributions make them indispensable and beloved.
Drum roll please…
The Winter 2023 RedPeak Impact Award Winner is: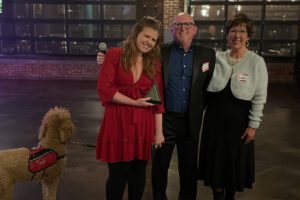 Kelley Randazzo, Leasing Professional, Central Leasing
From her nomination:
"Kelley Randazzo joined the company as a leasing professional over 4.5 years ago and has worked at a variety of RedPeak communities. This spring, she was selected as part of a team to launch an innovative, centralized approach to leasing in which salespeople worked independently outside the traditional leasing office format utilizing a variety of leasing tools, including a new, self-guide option. This initiative involved major change on many fronts, including learning and understanding a myriad of product types, floorplans and availability options, as well as different expectations regarding sales process and many team members initially struggled to adapt. Not Kelley. 
From April through September 2022, (less than 6 months) Kelley secured 149 leases! Keep in mind this does not include her leasing contributions for the remaining 6 months. By embracing technology and new methods, Kelley was able to improve efficiency, velocity (often by leasing two apartments at once) and overall revenue proving the concept could work to everyone's benefit."
Congratulations Kelley! You are absolutely taking RedPeak FORWARD!