News & Happenings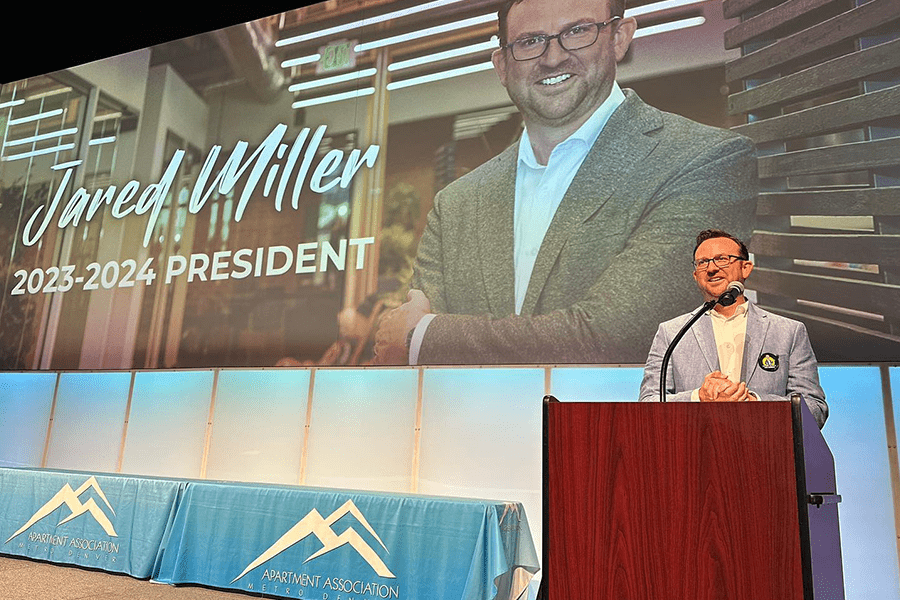 June 27, 2023
Jared Miller, COO, Assumes Presidency of the Apartment Association of Metro Denver
Company Initiatives
Team Member News
RedPeak and the Apartment Association of Metro Denver (AAMD) proudly announces Jared Miller, Chief Operating Officer of RedPeak, as the newly elected President of the organization. Jared's appointment comes after his nomination and election to the AAMD Board of Directors in 2019, followed by his service on the Executive Committee since 2020.
As the highest office any member of the AAMD may hold, the President plays a crucial role in upholding the organization's core values of integrity and ethical standards within the business practices of the Apartment Association. Jared's extensive experience and unwavering commitment make him an exceptional fit for this prestigious position.
During his term as President, Jared Miller aims to forge partnerships with various organizations to address significant challenges faced by the Denver community. He recognizes the positive impact the industry has on housing and job creation and intends to promote this message by highlighting the industry's contributions to the community.
"The Apartment Association of Metro Denver plays a vital role in ensuring high-quality housing and promoting the growth of our industry," said Jared Miller. "I am honored to take on the responsibility of the President's role and look forward to working collaboratively with industry stakeholders to address critical issues and strengthen our community."
Jared Miller joined RedPeak as Chief Operating Officer in 2018. He brings over 20 years of multifamily experience to the team and has held executive and ownership positions at firms including Homestead Development Partners, INNOVATIVE Real Estate, The Bainbridge Companies, Lane Company (CF Real Estate) and at RedPeak earlier in his career. He has experience in conventional, affordable and student housing including operations, asset management, marketing, acquisitions and development.
"We congratulate Jared on his election as President of the Apartment Association of Metro Denver," said Mark Windhager, CEO of RedPeak. "His appointment is a testament to his leadership skills and dedication to advancing the multifamily industry. We are confident that Jared will excel in this role and make a significant positive impact on the community."
The Apartment Association of Metro Denver (AAMD) is a trade association representing the multifamily rental housing industry in the Denver metropolitan area. AAMD's mission is to strengthen the rental housing industry by providing advocacy, education, and resources to its members, while promoting high ethical standards and professionalism.