News & Happenings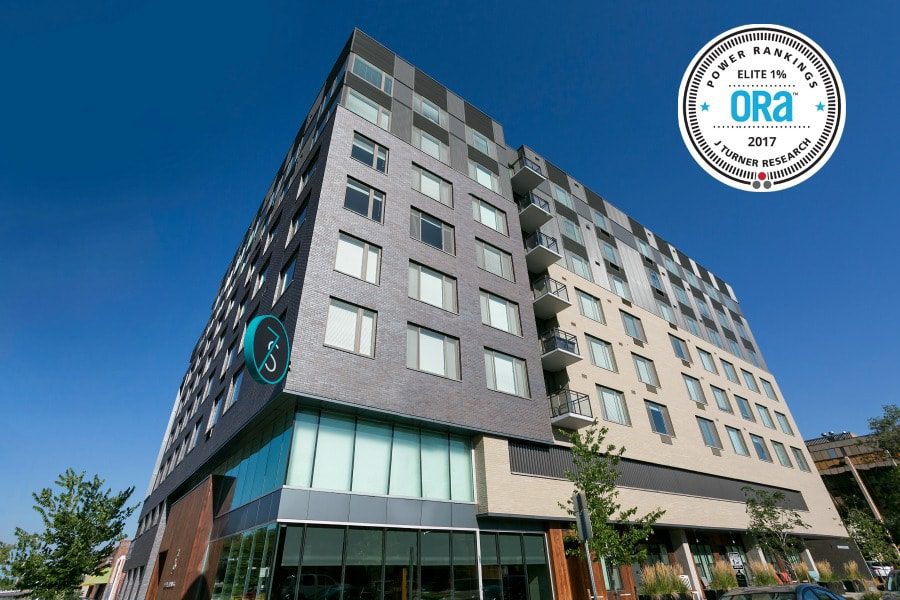 May 28, 2018
Governor's Park Complex Named 1% Elite Property
We always thought 7/S Denver Haus was special, but lets face it, as the property owner, were just a bit biased. It turns out, though, that a lot of people agree with us. The Governors Park property was recently named the 16th best property nationwide by J Turner Research on the 2017 Elite 1% ORA Power Ranking list. Now in its fourth year, the annual ranking is based on an exhaustive research of over 71,000 properties across multiple review sites. It was released in association with Multifamily Executive.
High Standards
Those named on the Elite 1% Properties are truly the cream of the crop. To be eligible, a property must receive a minimum ORA (Online Reputation Assessment) score of 88 and have at least 15 online reviews. "The national average score is just 59.7. We are beyond thrilled to be recognized by J Turner Research for our online reputation," said Faith Aids, Director of Marketing. "Team members Bethany, Justin, and Olivia have done a tremendous job creating a true sense of community at 7/S Denver Haus, and its a wonderful honor for those efforts to be recognized."
New Kid on The Block
Built in 2016, 7/S has quickly become a landmark location in Denver. The propertys 175 residents love the modern architecture and layout of the luxury apartments. Everything, of course, is brand new, but its the details that residents really appreciate, from the Nest thermostat to utility racks where they can store items such as snowboards and biking equipment that support the active Denver lifestyle.The property also boasts some notable amenities. You dont have to leave home to get your zen on when you have Kurve, 7/Ss in-house yoga studio. Dog lovers appreciate the Guten Dog spa, and theres nothing like an evening barbecuing on the top floor Skylounge with panoramic views of the mountains.Beyond that, the incredible staff at 7/S plans monthly events for the residents, creating a family-like atmosphere. At one such event, residents were able to meet the artists whose pieces grace the walls of 7/S.
Nature and Entertainment, Too
Of course, 7/S also has a premier location in Governors Park. Situated between Capitol Hill and Washington Park, the neighborhood is named after the Governors Mansion.The Cherry Creek bike trail is just a block away, offering a picturesque ride for those making use of 7/Ss secure in-house bike storage area, which comes complete with bike tools needed to keep their rides in top condition.If bikings not your thing, there are plenty of other things to do. Governors Park is home to numerous local shops, restaurants, and popular hangouts such as Lowdown and Maxs Wine Dive.
We Our Residents
The best part of this ranking is that its based on reviews by people who have actually lived at the property. They love 7/S, as is evidenced by this small sample of reviews that influenced the ranking:This is my second apartment with RedPeak and would recommend any of their buildings. The staff are friendly and the maintenance department is amazing.The staff are exceptional, the location is great and the amenities are high class. The complex is small but has the feel of a large community. If you want to live downtown without the downtown hassles then I highly recommend 7 / S Haus.I can't speak highly enough of the building and staff. The building is always immaculate and it was great to see the building staff in action every day.7/S Denver Haus made moving from the east coast to Denver a breeze. They could not have been more helpful or accommodating!! The team goes above and beyond to make things easier for the tenants. The building is clean, quiet and new, and the facilities are a great addition!The admiration is mutual. We thank our amazing residents for making this designation possible and look forward to continuing to earn it.