News & Happenings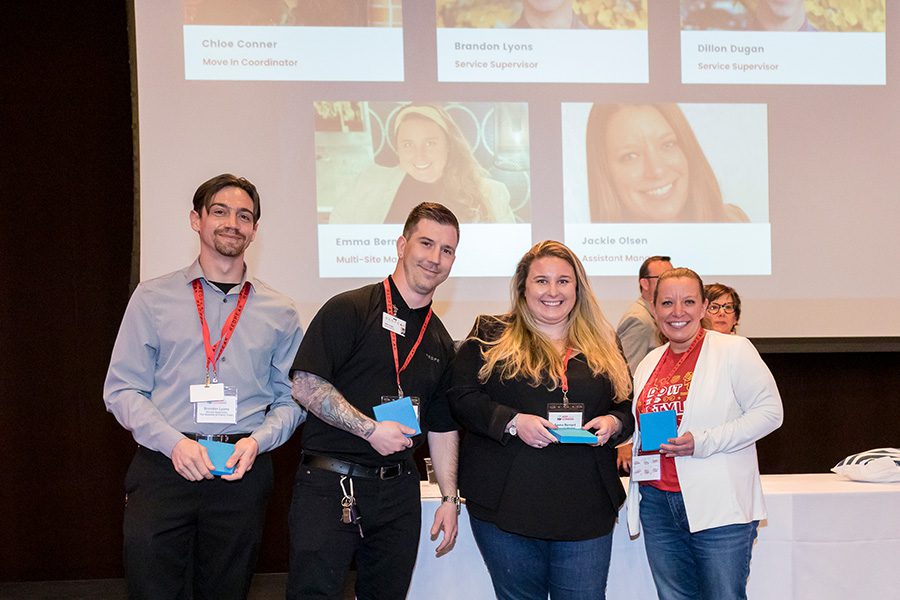 March 2, 2022
Forward 2022
The 2022 Forward team was announced at the Annual Service Summit on March 2nd, 2022, with 5 new members joining the group.
Forward is a strategic team that takes the lead in doing what's right for RedPeak and advocates for company progress. The process is extensive – Forward members are nominated by their peers, and personally interviewed and selected by the executive leadership team to serve for one-year terms, to serve as cultural ambassadors and where they are invited to become actively involved on one of RedPeak's strategic committees: RedPeak Responsibility, Innovation, Team and Experience.
These are team members that know greatness is demonstrated, not declared, and receive elevated benefits for going above and beyond. Forward members are quick to recognize and support others, ensure highest quality resident service, embrace new programs and ensure give-back programs work to energize the communities served.
The 2022 RedPeak Forward Team
Sammie Corchado – Multi-Site Manager, Team committee chair
Kailey Hassan-Wolff – Multi-Site Manager, Team committee
Dillon Dugan – Service Supervisor, Team committee
Jackie Olsen – Operations Manager, Team committee
Hector Maldonado – Service Supervisor, Team committee
Nick St. Onge – Service Supervisor, Responsibility, co-chair
Algirda Dunaway – Housekeeping Supervisor, Responsibility
Delaney Johnson – Community Manager, Responsibility, co-chair
Janna Naugle – Multi-Site Manager, Responsibility
Chris Lugo – Service Technician, Responsibility
Daniel Peterson – Multi-Site Service Specialist, Innovation, committee chair
Emma Bernard – Multi-Site Manager, Innovation
Shannon Snyder – Community Manager, Innovation
Nick Houston – Sales Manager, Innovation
Brandon Lyons – Service Supervisor, Innovation
Kristen Burton – Area Manager, Experience committee chair
Yolanda Herrara – Housekeeping, Experience
Mariah Cue – Community Manager, Experience
Chloe Conner – Move-In Coordinator, Experience
Congratulations to new and returning Forward Team Members.
Forward team members must have at least one year experience working for RedPeak, be employed on site and serve from March through February. Call for 2024 nominations will go out in September. Any RedPeak team member may nominate a fellow team member for Forward.