News & Happenings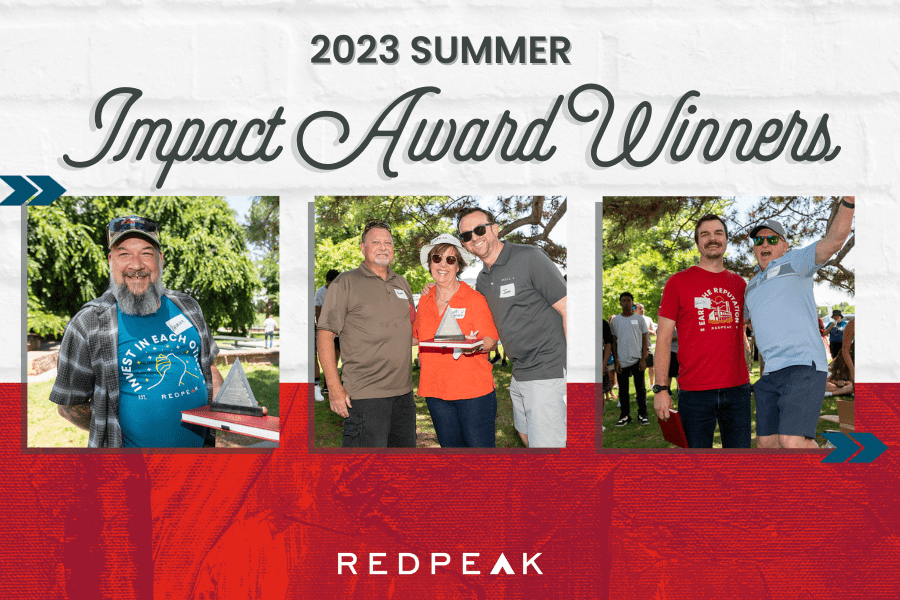 July 13, 2023
2023 Summer Impact Award Winners Announced
Twice a year, RedPeak hosts their ever-anticipated Impact awards, once in the winter and once in the summer. This award recognizes team members who go above and beyond in delivering RedPeak's mission to Energize Communities and Bring People Together. This year's summer Impact award consists of four awards in the following categories: the Financial Impact Award, the Team Impact Award, the RedPeak Impact Award, and finally, the Summit Impact Award. Of each of these categories, there can be only one winner, of whom are peer nominated. We are proud to announce this year's Summer Impact Award winners. 
Financial Impact Award  
The Financial Impact Award recognizes the individual what has delivered excellence in reducing company expenses and helping the organization Go Forward. This is defined as finding ways to streamline processes that result in quantifiable cost savings, initiating learning and training to eliminate need for outside sources and identifying quantifiable costs/ expense savings in their community without cutting corners.  
2023 Summer Impact Award winner: 
 Saul Perez HVAC Specialist, Multi-Site Maintenance  
Nominated by: Patrick Beck 
"Saul has made a big impact in the year he has been with us. Taking on the preventive maintenance on our buildings HVAC systems. He has been a key driver to the success of this program. Not only is he completing necessary PM's on the systems he is gathering data and creating the PM checklists for each property that he will be building into MIQ." 
Team Impact Award 
The Team Impact Award recognizes the individual that is "the glue", the go-to and the get-it done person within their team. This person offers persistently positive and enthusiastic outlook, serves as a mentor to other team members, encourages collaboration and team spirit. This person serves as an example of professionalism, integrity and service delivery at the highest level, demonstrating RedPeak values and helping the organization Earn the Reputation and Keep Work Fun.  
2023 Summer Team Impact Award winner:  
Scooter Reed Service Technician, Hadley  
Nominated by: Delaney Johnson  
"Scooter is a hard-working and dedicated employee who has made a significant impact on the Hadley property and team dynamic. He is always willing to go the extra mile, and his work ethic is top-notch. He is also passionate about his work and truly cares about the community he works in. Scooter is a key player on the Hadley team, and his impact within the company is why he is deserving of the Team Impact Award." 
RedPeak Impact Award 
"I will" is the mantra of the RedPeak Impact Award winner, recognizing the individual that has made a significant contribution to overall company and community success. This person is known for offering an innovative approach towards solutions, reaching outside of their comfort zone, invests in others on their teams, manages programs that make RedPeak a better place to work, and overall helps the company Go Forward through their Own It attitude.  
2023 Summer RedPeak Award winner:  
Patrick Beck Regional Manager of Maintenance Services  
Nominated by: Geoff Roth  
"Patrick is a valuable asset to the RedPeak maintenance team. He has a keen eye for efficiency and has come up with several innovative ideas to improve the way the team operates. He also created the RedPeak Maintenance training center, which has been an effective way to train maintenance team members. In addition, he has developed a maintenance training program that has been widely successful amongst the supervisors." 
Summit Impact Award 
This award is presented to the individual that has most exemplified RedPeak's mission to Energize Communities and Bring People Together through their interactions with residents, team members and those around them. They like RedPeak's core values every day and raise the bar for the entire organization with an infectious sense of positivity, commitment and service with heart.  
2023 Summit Impact Award winner:  
Daniel Peterson Fire and Life Safety Coordinator 
Nominated by: Patrick Beck  
"Daniel is a valuable asset to RedPeak and his contributions have made a significant impact on the company. He is a true team player who is always willing to go the extra mile. He is also a valuable mentor to his colleagues and is always willing to share his knowledge and expertise. I highly recommend Daniel for any role in which he can use his skills and experience to make a positive impact." 
Congratulations to all 2023 Summer Impact Award winners! Thanks to each of you for making RedPeak a very special place to work.